"I cannot believe that back in Russia everyone called America the Goldeneh Medina—the Golden Country. There is nothing golden. It is only darkness."
Dreams in the Golden Country: The Diary of Zipporah Feldman, a Jewish Immigrant Girl is a historical fiction book written by Kathryn Lasky. It is the ninth book in the Dear America series by Scholastic. The book was published in March 1998 and was followed by Standing in the Light. It was adapted into a television film in 1999.
Zipporah Feldman's Russian Jewish family immigrate to New York City in the early 1900s.
Dedication
"For Nat and Lochi Glazer"
Book description
"March 11, 1904
I forgot to tell you that yesterday Boris said to me, "Well, Zippy, maybe some play that is coming up will need children and you can audition." I said, "From your mouth to God's ears, Boris!" Now I can think of nothing else. I told Miriam last night in bed my secret dreams of wanting to become an actress. She squeezed my hand. It was a squeeze that seemed to sat we both have secret dreams, mine the theater and hers love. Then she said, "What is it about this country that makes one dream such big dreams?" I yawned sleepily and said yes, I knew what she meant, and look at Tovah with her union dreams. There is something in the air here in America that does this to people."
Plot
In September 1903, Zipporah Feldman with her mother, Sarah, and older sisters, Tovah and Miriam, reach Ellis Island. They reunite with their father, Yekl, who left their home in Russia two years prior. The family settles in a small tenement apartment in the Lower East Side. Miriam and Tovah both obtain jobs, while Zipporah attends public school. Due her lack of proficiency in English, she is placed in the first grade. Disappointed at first, Zipporah begins to enjoy school, when a girl her age, Bluma "Blu" Wolf, joins her class.
Zipporah's parents begin arguing often, mostly about their religion. Zipporah suggests a compromise to her parents, which they both agree to. Yekl attends shul more often and rents a sewing machine for Sarah to keep busy. Zipporah's friend Yitzy Silver finds her a client and Sarah begins sewing clothes for uptown ladies. The following December, Zipporah signs her father up for the Russian Symphony Society. He is readily accepted and begins practicing his violin for a January performance.
A few days before her father's concert, he brings her to see a play titled, Shulamith. Zipporah begins to aspire in become an actress in Yiddish theater. She later meets a friend of Tovah's, Mamie, who takes her to see play rehearsals. Meanwhile, Miriam grows close to an Irish fireman, Sean O'Malley, which culminates in them eloping in July. Sarah sits shiva for her, pretending that she is dead. Around the same time, Zipporah learns that Sarah is pregnant.
Before school starts, Zipporah waits outside Miriam's apartment to catch a glimpse of her for several days. In the fall, Zipporah begins her work as a prop girl. Mamie dies in a horrible shirtwaist factory fire, which causes Zipporah to stop writing for two months. Sarah gives birth to her baby, Yossel, who dies a few days later. In March 1905, Zipporah acts in a play, Shulamith, as a child eaten by a lion. Miriam attends the play with Sean and visits the Feldmans apartment to make up with her mother.
Characters
Main article: List of Dreams in the Golden Country characters
Zipporah "Zippy" Feldman, a Russian Jewish immigrant, who dreams of becoming an actress. She initially struggles in America, but finds happiness in friends, family, and hope for the future.
Tovah and Miriam Feldman are Zipporah's elder sisters. Tovah immerses herself in unions and women's rights, while Miriam searches for individual success.
Adaptation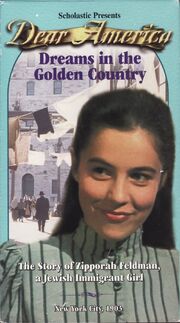 Main article: Dear America: Dreams in the Golden Country
Dreams in the Golden Country was adapted into a short television film in 1999. The film was produced by Scholastic Entertainment and aired on HBO. It was released on video tape the same year. Natalie Vansier starred in the film as Zipporah.
Author
Main article: Kathryn Lasky
Kathryn Lasky (born June 24, 1944) is an American children's author. She is known for writing The Night Journey, Wolves of the Beyond, and the Guardians of Ga'Hoole series. She is the author of four books in Dear America, five in The Royal Diaries, one in My Name Is America, and three in My America.
Like Zipporah's family, Lasky's grandparents immigrated from Russia. Instead of Ellis Island, they went through Canada and settled in Minnesota. As a child, Lasky enjoyed asking her parents, aunts and uncles about her grandparents journey.
References
See also
External links
Community content is available under
CC-BY-SA
unless otherwise noted.