Isabel: Jewel of Castilla is the fourth book in The Royal Diaries, a series of fictional diaries by Scholastic. The book was published in July 2000 and was written by Carolyn Meyer. It was adapted into a short film in December 2000. The book was followed by Meyer's Anastasia: The Last Grand Duchess.
Isabel, a princess of Castilla and León (present-day Spain), is banished to live in Segovia by her half-brother, King Enrique.
Book description
"Segovia—12th of April 1466
After Mass this morning, I climbed the narrow, winding stone steps to a window high in one of the castle turrets. I often come up her to see what lies beyond my prison. Segovia is surrounded by four thick walls, each with a heavy wooden gate. The aqueduct built by the Romans more than a thousand years ago stretches to the horizon. Far below the castle, the Eresma River rushes through a narrow gorge. Across the river, flocks of sheep seem to flow like a river themselves. The sheep bleat, their bells tinkle—I know this, even if I cannot hear them. In the fields beyond the walls, little green shoots of wheat are pushing up. How I yearn to be there instead of here."[3]
"Lejos aún los días de su futuro reinado junto a Fernando de Aragón, la niña Isabel escribe su diario a los catorce años de edad. El creciente conflicto entre sus hermanos Enrique y Alfonso constituye su mayor preocupación. Ambos se han proclamado reyes de Castilla y se han enzarzado en una terrible lucha por el poder, y además, Enrique planea casarla con el rey de Portugal, matrimonio que Isabel no desean por nada del mundo. Sin embargo, ¿será lo bastante fuerte para resistirse a la voluntad de su hermano?
⸻⸻⸻⸻⸻
Con este diario ficticio de Isabel la Católica comienza la serie Diarios de Reinas y Princesas, en la que descubrirás la vida de los personajes femeninos más intersantes de la Historia. Concluido el diario, encontrarás un epílogo con el resumen de la vida de cada protagonista, además de un complemento de ilustraciones, mapas, árboles genealógicos e información diversa que te ilustrará sobre el contexto histórico en el que se desarrollaron los hechos relatados en el diario."
"Partage le journal intime d'Isabelle, et vis avec elle le destin fascinant d'une future reine.
⸻⸻⸻⸻⸻
17 Avril 1466. "Enrique, a dit ma fidèle Beatríz, a besoin d'hommes et d'argent. Pedro Girón s'est engagé à les lui hournir, à la condition que le roi lui donne en mariage se proprè soeur vous.–Er mon frère a consenti à ce marché? aije gêmi." Beatríz a hoché la tête. Je me suis jetée dan ses bras en sanglotant.–Que faire?–N'ayez crainte, m'a réspondu Beatríz à voix basse, j'ai un plan." Elle a entrouvert sa mante pour me montrer un poignard dissimulè dans un repli de l'étoffe. "Dieu ne permettra pas cette union contre nature, a t'elle sifflé. Et je ne le permettri pas non plus!"
Plot
Enrique, the current king of Castilla, forces his half-sister Isabel into exile with his vulgar wife Queen Juana. Meanwhile, Isabel's younger brother Alfonso gains support to become the true king of Castilla. In 1466, her half-brother schemes to have her betrothed to King Afonso of Portugal ("El Escorpión") and later Pedro Girón. She manages to narrowly avoid both marriages for the time being.
Ten months later, Isabel begins writing in her diary again. The boring monotony of castle life continues until Archbishop Carrillo comes to rescue her. Isabel begins to live in Arévalo with her mother and reunites with her younger brother. Several months later, Isabel accompanies Alfonso on a trip to Ávila to recruit new troops. Alfonso falls ill suddenly and dies, most likely of the plague.
Archbishop Carrillo encourages Isabel to inherit the rebel throne and to overthrow Enrique. Isabel refuses to become Enrique's rival and proposes a treaty. Enrique signs the treaty, which states that his heir is Isabel and that he will not pressure her to marry. Only months later, Enrique loses patience and tries to force her to marry El Escorpión again.
Isabel with the help of Carrillo and her other allies start negotiations for her to marry Fernando, current king of Sicily and future king of Aragón. Dressed as a monk, Isabel escapes and makes her way to Ávila to join the funeral procession for Alfonso. After the funeral, Isabel bids goodbye to mother and travels to Valladolid, where she meets her future husband, Fernando.
Characters
Main article: List of Isabel: Jewel of Castilla characters
Isabel, the daughter of the late King Juan. She lives in exile with her sister-in-law and niece in Segovia, until Archbishop Carrillo frees her to be with her mother in Arévalo.
Alfonso, Isabel's younger brother, whom many support as the true king of Castilla. Despite his young age, Alfonso takes his role seriously.
Adaptation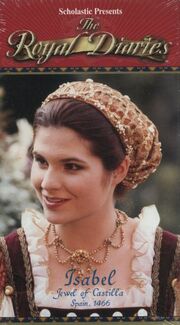 Main article: The Royal Diaries: Isabel - Jewel of Castilla
In 2000, Isabel: Jewel of Castilla was adapted into a television film. The film was produced by Scholastic Entertainment and aired on HBO. It was released on video tape the same year and on DVD in 2008. Lisa Jakub starred in the film as Isabel. The film follows the book with just a few character omissions.
Author
Main article: Carolyn Meyer
Carolyn Meyer (born June 8, 1935 in Lewistown, Pennsylvania) is an American novelist of historical fiction. She is well known for her Young Royals series. Meyer is the author of three books in The Royal Diaries, including Anastasia: The Last Grand Duchess and Kristina: The Girl King.
Meyer traveled to Spain with her husband, a historian. They visited many of the towns Isabel once lived in, including Segovia.
Editions
Awards
NCSS/CBC Notable Social Studies Trade Book for Young People (2001) - recommended[6]
References
See also
External links
Community content is available under
CC-BY-SA
unless otherwise noted.