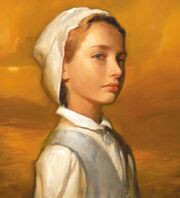 All the
characters
that appear in Elizabeth's Diaries:
Our Strange New Land
,
The Starving Time
, and
Season of Promise
by
Patricia Hermes
.
Main characters
Elizabeth Barker
Main article: Elizabeth Barker
Elizabeth Mary Barker[1][2] (born October 1599)[3] was the daughter of Mr. and Mrs. Barker, the twin sister of Caleb, and older sister of Abigail. She sailed across the Atlantic Ocean with her parents and settled in Jamestown, Virginia in August 1609. Elizabeth experienced many trials and tribulations during her first year in the colony. She was good friends with Jessie Bolton, Mary Dobson, and Temperance Flowerdew.
Supporting characters
Anna Whistler
Anna[4] Barker (formerly Whistler) was the sister of Mistress Collier. She was experienced with birthing and assisted Mistress Barker with Abigail in October 1609. During the following winter, Anna gave birth to a stillborn son and was widowed after the death of her husband. Anna nursed Abigail during Mistress Barker's illness and after her death. In November 1610, she married Mr. Barker and was expecting a baby by February 1611.
Mistress Barker
Mistress Barker (died March 24, 1610)[5] was the wife of Mr. Barker, and mother of Elizabeth, Caleb, and Abigail. She moved to Jamestown with her family, after a long journey across the ocean. Mistress Barker had a hard time adjusting at first and missed her son. She also worried for the safety of her daughters, Elizabeth and newborn Abigail. Mistress Barker fell ill during the winter and passed away in March 1610.
Mr. Barker
Mr. Barker was the father of Elizabeth, Caleb, and Abigail, and husband of Mistress Barker. He was a third son and had a hard time in England. In 1609, he settled in Jamestown with his family and built their house in time for the following winter. Mr. Barker became an adviser to Captain John Smith during his first few months there. He was smart and capable, occasionally proposing solutions for the colony's problems. Mr. Barker was also a master carpenter and rebuilt several buildings in Jamestown. He remarried in November 1610 to Anna Whistler.
Caleb Barker
Caleb Barker (born October 1599)[3] was the twin brother of Elizabeth and older brother of Abigail. He enjoyed sketching and talking to his twin sister. Caleb stayed behind in England with his mother's cousin, because of his weak lungs. Elizabeth stole his sketchbook, which she used as a journal for a year. In the spring of 1610, Caleb reunited with his family in Jamestown. Caleb learned carpentry skills from his father within a year of arriving.
Jessie Bolton
Jessie Bolton (born October 1599)[3] was a friend of Elizabeth. They met on board the Blessing, and became friends during the long journey. She and Elizabeth were born in the same month and year, and also had blonde hair and blue eyes. Jessie's mother died in September 1609, after arriving at Jamestown. She became closer to Elizabeth over the following month, before moving back to England with her father in October.
Mary Dobson
Mary Dobson (born c. 1595)[6][7] was a settler in Jamestown and friend of Elizabeth. They became friends, after Jessie went back to England. She would often meet Elizabeth at their secret place to discuss their hopes and dreams. Mary had a crush on John Bridger. Mary's mother passed away on January 1, 1610,[8] leaving her heartbroken. She and Elizabeth became friends with Temperance Flowerdew.
Pocahontas
Pocahontas (born c. 1596)[9] was an Indian (Native American) daughter of the chief, Powhatan. She saved John Smith's life and later acted as a go-between for the Indians and settlers. Elizabeth and Jessie became friends with Pocahontas. After John Smith returned to England, Pocahontas stopped visiting Jamestown. Pocahontas returned in September 1610, but was no longer the playful young girl she use to be.
Minor characters
References
Community content is available under
CC-BY-SA
unless otherwise noted.