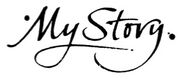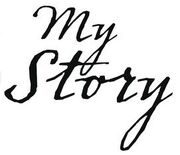 My Story
is a series of fictional diaries published by
Scholastic UK
. The series shares similarities to
Dear America
,
The Royal Diaries
, and
My Name Is America
. It launched in 2001 and was initially separated into a girls and boys line. Scholastic revamped the series in 2008, combining both lines. Some also carried a new title,
My Royal Story
. After a brief redesign in 2013, the series was relaunched with new covers the following year. New editions of
My Story
started being published in 2020.
The series originally focused on English, Irish, and Scottish history. A wide array of topics are featured such as the Great Famine, Henry VIII's reign, and Jacobite rising of 1745. The books featuring a male protagonist focus primarily on war. The topics and settings were expanded with the 2008 relaunch. Some examples are Princess of Egypt, The Fall of the Blade, and Viking Blood.
Three Dear America books, Voyage on the Great Titanic, A Picture of Freedom, and A Journey to the New World, were republished in the series as well as the My Australian Story book Surviving Sydney Cove. Many books in The Royal Diaries were reprinted for My Royal Story, including Elizabeth I: Red Rose of the House of Tudor and Victoria: May Blossom of Britannia.
Series
Original
2008 relaunch
2013 redesign
In 2013 and 2014, several My Story books from the boys line were given a new covers. All of the books focused on war.
2014 relaunch
2020 relaunch
My Royal Story
My Royal Story is a spin-off of My Story. The series consists of republications from the original My Story series and Scholastic America's The Royal Diaries. Only the book, Henry VIII's Wives is exclusive to My Royal Story.
My True Story
Collections
References
See also
External links
Community content is available under
CC-BY-SA
unless otherwise noted.