"I am worn. Standing all day has caused my feet to ache terribly. Nothing relieves the pain. Weariness has crept into my bones. My eyes feel as if they will burst from my head thanks to the endless noise. The lint flies everywhere. Breathing itself is a burden."
So Far from Home: The Diary of Mary Driscoll, an Irish Mill Girl is the sixth book in Scholastic's Dear America series. It was written by Barry Denenberg, his second in the series. The book was published in October 1997. It was adapted into a television film in 1999.
During the Great Famine, Mary Driscoll immigrates from Ireland to Lowell, Massachusetts where she works in a mill.
Dedication
"To the memory of my grandfather, Louis Denenberg"
Book description
"Friday, July 9, 1847
Lowell
Mrs. Abbott's house is so near the mills we were able to walk there.... I never dreamed earthly hands could make anything that big. It looked to me like all the people in Ireland could fit inside. 'Twas like a fortress. There were smokestacks blowing their blackness heavenward and darkening the sky. I felt cold although the day was warm. A shudder rippled through my body. There is nothing to be afraid of, I told myself. What could be worse than what I had already seen back in Ireland? I had to go through those gates."
Plot
Two years after the Great Famine began in Ireland, fourteen-year-old Mary Driscoll receives a ticket for her passage to America from her aunt Nora Kinsella. Mary's mother is happy that she will be joining her sister Kate, who left two years earlier. Her father, however, is upset that both his daughters will now be gone, but remains quiet once he says his piece. Three weeks later, Mary departs her hometown of Skibbereen and a neighbor takes her to Cork where the ship is docked.
On board the ship, Mary befriends an married couple, Mr. and Mrs. O'Donnell, who are looking forward to seeing their daughter in America. She also becomes acquainted with Sean Riordan, a boy around her age. When Mr. and Mrs. O'Donnell pass away, Mary decides to find their daughter Alice. In Boston, Sean and his uncle Patrick Quinn are able locate Alice who is blind. Seeing her poor living conditions, Mr. Quinn takes her away and sends her to a safe place.
Kate fetches Mary in Boston and brings her to Lowell, where she helps her get a job at the mill. Mary stays with Nora in an Irish neighborhood called the Acre. A few days later, she starts her job at the mill and a "Yankee" girl, Annie Clark, trains Mary. The two of them become friends, after meeting by chance one Sunday. Annie invites Mary to her boardinghouse and introduces her to her roommates Laura Austin, Ruth Shattuck, and Clarissa Burroughs. Mary never warms to Clarissa, who is prejudiced against Irish people.
Work at the mill is hard, but Mary continues working hard since she wishes to save enough for her parents to come to America. In October, she receives horrible news that both her parents have died. A few weeks later, Mr. Quinn writes to her about Sean's situation. After helping Alice reach safety during a riot, Sean returned to help some others. He was charged with accessory to murder when some men were found dead nearby. Mary believes she can help by paying Sean's bail and leaves Lowell the next day.
Characters
Main article: List of So Far from Home characters
Mary Driscoll is a fourteen-year-old girl from Ireland who immigrates to America to escape poverty and hunger. In Massachusetts, she begins working at a mill.
Annie Clark, a "Yankee" girl who works at the mill with Mary. She helps Mary learn the ropes of her new job. The two of them eventually become good friends.
Adaptation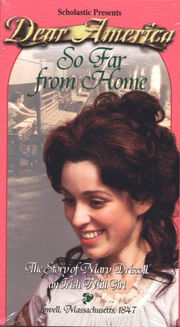 Main article: Dear America: So Far from Home
In 1999, So Far from Home was adapted into a short television film. The film was produced by Scholastic Entertainment and aired on HBO. It was released on video tape the same year. Laura Bertram starred in the film as Mary.
Author
Main article: Barry Denenberg
Barry Denenberg (born in Brooklyn, New York City, New York) is a children's author. He wrote five books in Dear America, including When Will This Cruel War Be Over?, One Eye Laughing, the Other Weeping, Early Sunday Morning, and Mirror, Mirror on the Wall. Denenberg also penned two books in My Name Is America, and one in The Royal Diaries.
In So Far from Home, Denenberg covers "three critical and fascinating aspects of American history", including the beginning of the Industrial Revolution and the Lowell Mill Girls.
Awards
Acknowledgements
"The author would like to thank Martha Mayo at the Center for Lowell History for graciously sharing her intelligence and time."
References
See also
External links