"The Lenape are my neighbors. Sitting here peacefully, I feel a current of God's love running through this life, though He is known here by a different name."
Standing in the Light: The Captive Diary of Catharine Carey Logan is an entry in the Dear America series. It was written by Mary Pope Osborne and first published in September 1998 by Scholastic. The book was republished in May 2011 with new cover art. A television film based on the book was released in 1999.
Catharine Logan and her brother Thomas are captured by Lenape Indians in 1764.
Dedication
"For my mother"
Book description
"Something strange happened to me today, Papa. Without warning, I began to say all my thoughts out loud. And many of them were most bitter. It happened when I was walking behind the hunter with the eagle painted on his cheek... suddenly my wrath poured out like fire. I told him that I was not a savage like him and the others! I told him that... I despise everything about him and his people.... He did not turn back even once to look at me, nor to command me to be silent. Indeed, I began to wonder if he had heard me at all. Then I wondered if I had even spoken. Was I only thinking these venomous thoughts? I fear I am going mad, Papa. Perhaps invisible too. Worse of all, my ink is nearly gone...now for certain, I will totally disappear."
"My name is Catharine. This is my story....
After the peacefulness of Catharine Carey Logan's Quaker community is rocked by terrible attacks against the Delaware Indians, the unthinkable happens: The Lenape take Catharine and her brother captive in retaliation for the violence. Fearing for her life, Catharine is frightened by the "savages." Yet as time passes, a young warrior named Snow Hunter tries to teach her about his people and their ways. Catharine begins to find her place with the Lenape, and to fall in love. But when English soldiers threaten to destroy the Lenape and all that Catharine has come to care for, she must reach deep within herself to remain brave."
Plot
Catharine Logan is given a diary by her father in November 1763. She writes about her day-to-day life in her small Quaker community. The family hears reports by attacks by Indians, which frightens Catharine and her mother. Her father feels sympathy for the Indians, and insists that "if we treat [them] fairly, they will treat us fairly." Mr. Logan puts his trust in God and starts to leave their front door unlocked. Catharine believes him to be "trifling with [their] safety."
That January, Catharine and her younger brother Thomas are captured by Lenape Indians. She continues to write in her diary, but loses track of the date. Catharine and Thomas are brought to hut occupied by an old woman and her daughter, White Owl and Little Cloud. The next day, Thomas is taken away. In a ceremony, White Owl adopts Catharine, who is renamed "Chilili". Catharine fears that she will never see Thomas again. She is tasked to help a hunter check traps regularly. Catharine takes to yelling her frustrations at him.
Catharine dreams of Thomas being on the other side of the hill. One day, she nearly falls in the river while trying to cross it. The hunter saves her. He surprise her by revealing "[he] was English once". Catharine begins asking him about Thomas's whereabouts. She dreams about Thomas being sick. The hunter aptly named Snow Hunter agrees to take her to see him. Thomas's adoptive father allows him to go with Catharine. White Owl and Little Cloud nurse Thomas back to health.
Over the next few months, Catharine grows to regard White Owl and Little Cloud as family. She also becomes close to Snow Hunter. He admits his love for her, before setting off on a hunting party. The party does not return, worrying the village. Some days later, the village are attacked by white soldiers. Catharine and Thomas are taken back to their family. She is unable to relate to her friends and family. At one point, Catharine wishes to no longer live. Her father comforts her by saying she "stood in the light."
Characters
Main article: List of Standing in the Light characters
Catharine Logan is a thirteen-year-old Quaker. In January 1764, she and her brother are captured by the Lenape. Catharine refuses to adapt to the Lenape ways, until Snow Hunter helps her find her brother.
Snow Hunter, a Lenape hunter. He was captured at a young age and now considers himself Lenape. Snow Hunter becomes close to Catharine and her brother.
Thomas Logan is Catharine's seven-year-old brother. He quickly adapts to his new life with the Lenape.
Adaptation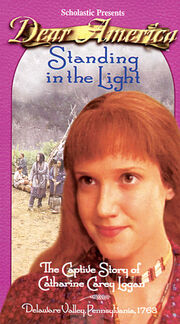 Main article: Dear America: Standing in the Light
In 1999, Standing in the Light was adapted into a television film. The film was produced by Scholastic Entertainment and aired on HBO. It was also released on video cassette the same year. Stephanie Anne Mills starred in the film as Catharine.
Author
Main article: Mary Pope Osborne
Mary Pope Osborne (born May 20, 1949 in Fort Sill, Oklahoma) is a children's book author. Osborne is best known for Magic Tree House, a series of over fifty books. She is also the author of My Secret War in Dear America, and the Virginia Dickens trilogy in My America.
Osborne first became interested in the Lenape, when she and her husband bought a house in Delaware Valley in the late 1980s. She wrote Standing in the Light there, imagining Catharine's experiences and feelings. Osborne also attended Quaker meetings and visited the site of a Lenape village for research.
Editions
Acknowledgments
"'The author would like to thank The Museum of the American Indian in New York City; The Mercer Museum in Doylestown, Pennsylvania; The Quaker Meetinghouse in Quakertown, Pennsylvania; and The Churchville, Pennsylvania. She would also like to thank Tracy Mack for her wonderful editing, Marge Custer at The Churchville Nature Center, Sheila Kogan, Diane Nesin, and Melissa Jenkins."
References
See also
External links
Community content is available under
CC-BY-SA
unless otherwise noted.