""They have no shoes," Elisabeth whispered. We watched for several minutes as they passed by. We unable to speak. Their footprints left blood in the snow."
—The soldiers arrive at Valley Forge[2]
The Winter of Red Snow: The Revolutionary War Diary of Abigail Jane Stewart is a Dear America book by Kristiana Gregory. It was published in September 1996 and republished in September 2010. It was also adapted into a short film in 1999. A sequel, Cannons at Dawn was released in May 2011.
Abigail Stewart lives in Valley Forge, where the Patriot forces camp for several months during the Revolutionary War.
Dedication
"For Tim, Catherine, and Matthew Walker"
Book description
"December 19, 1777, Friday
I woke to sleet hitting the window and another sound I'd not heard before. A drumbeat. Papa came in from milking and said, "The soldiers are coming." ...Finally, through the gray, we saw them. Three officers on horseback led. We ran outside to cheer, but the men were quiet and thin. The sight of them took my breath away. "They have no shoes," Elisabeth whispered. We watched for several minutes as they passed by. We were unable to speak. Their footprints left blood in the snow. As I write this upstairs, my candle low and our room cold, I think I shall never again complain."
"My name is Abigail. This is my story....
Eleven year old Abigail Jane Stewart's life with her family is upended when Abby and her sisters are awakened by the unfamiliar sound of drums. General George Washington is leading the Continental soldiers into their winter encampment at Valley Forge, Pennsylvania. The presence of the army forces the town to face the realities of the Revolutionary War, and sides must be chosen. Hardship is a constant companion for soldiers and citizens alike throughout the winter, and in her diary, Abby pieces together the beauty, pain, and blessings of this long revolutionary winter."
Plot
Abigail Stewart is an eleven-year-old living with her parents Sarah and Edward, and sisters Elisabeth and Sally in Valley Forge, Pennsylvania. In early December 1777, her mother gives birth to her brother who they name John. A couple weeks later, the Continental Army arrive in Valley Forge, planning to spend the winter training. Abigail and her family are immediately struck by the sad state of the army. After the troops are situated, General George Washington begins renting the home of the Stewarts' friend Mrs. Hewes.
Later, George Washington hires Abigail's mother as his laundress, increasing the family's workload. In late January, Abigail and her father travel to Philadelphia, where the British are stationed. Edward leaves upset when his brothers refuse to go to Valley Forge with him. Back home, Elisabeth gives her bounty shirt, in which she sewed her name, to a soldier. She is disappointed, however, since he is not handsome. George Washington's wife Martha arrives in February.
Abigail visits the encampment with Martha. She is particularly affected by a young wife crying next to sick husband. Some weeks later, the Stewarts bring the woman, named Helen Kern to stay with them, after her husband dies. Helen, who is heavily pregnant, soon becomes very dear to the family. Meanwhile, Elisabeth develops a crush on a French interpreter, Pierre. She sews him a coat, which he gives to a dog.
In April, Abigail's friend Lucy Smith goes missing. She writes to Abigail about her whereabouts, but swears her to secrecy. A few weeks later, Abigail can no longer stand Lucy's sad faces and simply tells them that she is safe. Meanwhile, Helen gives birth to a girl, Olivia. In late May, Elisabeth is visited by Ben Valentine, who received her first coat. Her opinion has changed as she finds herself wondering if he will write her back. In June, the Continental Army leaves, returning the quiet stillness to Valley Forge.
Characters
Main article: List of The Winter of Red Snow characters
Adaptation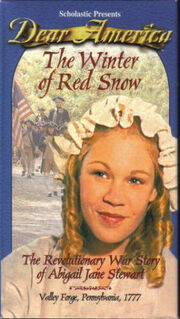 Main article: Dear America: The Winter of Red Snow
The Winter of Red Snow was adapted into a television film in 1999. The film was produced by Scholastic Entertainment and aired on HBO. It was released on video tape the same year. Elisabeth Rosen starred in the film as Abigail.
Author
Main article: Kristiana Gregory
Kristiana Gregory (born 1951 in Los Angeles, California) is an award-winning children's author. She authored five books in Dear America, including Across the Wide and Lonesome Prairie, The Great Railroad Race, Seeds of Hope, and The Winter of Red Snow's sequel Cannons at Dawn. Gregory also contributed three books in The Royal Diaries and three in My America.
Several of Gregory's ancestors fought in the Revolutionary War, including William Kern who spent the winter of 1777-1778 at Valley Forge. As such, Gregory has always particularly interested in the time period.
Sequel
Main article: Cannons at Dawn
The Winter of Red Snow was the first and only Dear America book to receive a sequel. Cannons at Dawn was published in May 2011, also making it the third new book in the series' relaunch. The book covers the goings-on of Abigail's family during the rest of the Revolutionary War.
Editions
Acknowledgements
"I'm deeply grateful to Pennsylvanians Betty Page of the Valley Forge Society, and Elsie Mullin, for their help with research. The recipe of "Martha Washington's Great Cake" was provided by The Women's Committee of the Valley Forge Historical Society, Valley Forge, Pennsylvania."
References
See also
External links
Community content is available under
CC-BY-SA
unless otherwise noted.