"Try as I might, I cannot seem to stop thinking about times past. The long walks, the buggy rides into town, the dances and fancy balls after which we would feast on cake, strawberries, and ice cream, the sparkling conversation, the laughter and the merriment–there is none of that now."
When Will This Cruel War Be Over?: The Civil War Diary of Emma Simpson is the third book in Scholastic's Dear America series. It was written by Barry Denenberg and was his first book for the series. The book was published in September 1996 and republished in April 2011. It was adapted into a short film in 2000.
The book is set during the American Civil War and follows Emma Simpson, a young Southern girl.
Dedication
"For my own lovely Emma"
Book description
""I am no longer young"
Wednesday, November 23, 1864
Sometimes I try to remember what our lives used to be like, but it has been so long I have difficulty conjuring up the images. I can, at times, picture the house when it was alive and full of activity—everyone getting ready for a carriage ride into town or perhaps an excursion into the countryside. Mother giving the servants last minute instructions, Father and Brother Cole seeing to the bags, and me sitting at my vanity for what I am sure must have seemed like endless hours....Those days are gone forever—I am no longer young. At times I feel like I am a thousand years old—that is what this cruel war has done to me."
"My name is Emma. This is my story....
The peaceful, traditional Southern life that Emma Simpson and her family know is shattered when the Civil War reaches their soil. Soon, Emma's father and brother are called to battle, but her family is confident that the South will quickly win the War between the States. As the months drag on, though, the harsh realities of war set in. Death and hardship are all around, and food, medicine, firewood, and ink for Emma to write her diary become increasingly scarce as troops from the North march deeper into the South. Eventually, even Emma's home is commandeered by the Yankees. Still, with a brave spirit and the knowledge of what is most important in life, Emma never loses hope that the war will end."
Plot
Fourteen-year-old, Emma Simpson lives in Gordonsville, Virginia with her mother in the middle of the Civil War. Mrs. Simpson handles the management of the household and instructing their slaves, Iris, Amos, and Nelson. Meanwhile, Emma's father Robert and elder brother Cole, soldiers in the Confederate States Army, fight against the Union Army. Near Christmas, they receive word that Cole has died of pneumonia, while recovering in a hospital.
Life goes on almost normally, until Emma's mother falls ill in January 1863. Emma's aunt Caroline Colsten, older cousin Rachel, and baby cousin Elizabeth come to live at the Simpsons' home, while Emma's mother is unwell. In the meantime, Emma receives a letter from Tally Mills, a boy she met a year ago. He includes a ring with the letter, though Emma decides to wear it on a chain. Over the next three months, her mother's health steadily declines. Her last words to Emma are to "spend as little time as possible on tears, for tears will do us all no good."
Caroline takes on the household management in Mrs. Simpson's absence. Emma still heartbroken finds solace in reading Jane Eyre. One day, the "Yankees" (Union soldiers) invade the house of a nearby neighbor, the Broyles. Mrs. Broyles, "too frightened to stay there", moves with her two daughters, Lily and Lucy, into the Simpson residence. A Yankee officer, Colonel Davenport later arrives and makes Emma's house his headquarters. Emma and her guests are forced to move into the third floor guestrooms.
However, Emma becomes grateful for the Colonel's presence, after many of her neighbors have unfortunate encounters with the Yankees. Just as they grow use to their presence, Colonel Davenport and his men depart suddenly. The Simpsons' slaves run away not long after, excluding the loyal Iris and Amos. Emma longs for the time before the war, but realizes that "there is no going back." Christmas again, Emma laments the death of Elizabeth, and worries about her father and Tally.
Characters
Main article: List of When Will This Cruel War Be Over? characters
Emma Simpson is a fourteen-year-old girl living in the South during the Civil War. She has conflicting feelings about the war, despite her father being a Confederate officer.
Caroline Colsten, Emma's loving aunt, who comes to live at the Simpsons' home. Her husband died a year previously at the Battle of Gettysburg.
Rachel Colsten is Caroline's daughter and Emma's older cousin. After her father's death, Rachel becomes sullen and ill-tempered.
Adaptation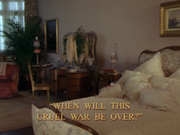 Main article: Dear America: When Will This Cruel War Be Over?
In 2000, When Will This Cruel War Be Over? was adapted into a television film. The film was produced by Scholastic Entertainment and aired on HBO. It was not released on video tape, unlike the other Dear America films. Melyssa Ade starred in the film as Emma.
Author
Main article: Barry Denenberg
Barry Denenberg (born in Brooklyn, New York) is a nonfiction and historical fiction author, known for writing biographies. He is the author five Dear America books, including So Far from Home, One Eye Laughing, the Other Weeping, Early Sunday Morning, and Mirror, Mirror on the Wall. Denenberg also contributed two books to My Name Is America, and one to The Royal Diaries.
Denenberg said, "Because the military activity took place overwhelmingly in the South, I decided to tell the story from the Southern perspective, a perspective asks the question–as moving today as it was then–What is it like to have your world torn apart while war rages at your doorstep?" He also named the main character after his own daughter.
Editions
Awards
NCSS/CBC Notable Social Studies Trade Book for Young People (1997)[4]
Acknowledgements
"The author would like to thank the editorial, production, and design staffs at Scholastic for their painstaking efforts on his behalf. In particular, Tracy Mack, whose caring shines through on every page."
References
See also
External links
Community content is available under
CC-BY-SA
unless otherwise noted.